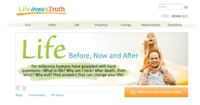 Allen, TX, June 14, 2012—A new website claiming to "fill a critical void in this world" officially launched on Monday, June 11, 2012. LifeHopeandTruth.com aims to give a fresh perspective on "the lack of understanding about the purpose of life, the lack of realistic hope for a better future and the lack of truth."
"People all over the world are searching for answers to life's biggest questions," said Jim Franks, president of the Church of God, a Worldwide Association, Inc., which sponsors the site. "Science simply cannot answer—and religion has not adequately answered—the moral and spiritual questions we wonder about: Why do we exist? Does my life have purpose? What happens after I die?"
"The writers for LifeHopeandTruth.com have one thing in common," Clyde Kilough, media operation manager, stated. "They discovered at some point in their lives that there is a source for real, meaningful and practical answers to the questions and challenges of life. They are now committed to helping others take a new look at God, the Bible, the meaning of life, prophecy, human relationships, and why all these things are relevant to changing our world today." They will be continually adding new written, video and audio content.
The Church of God, a Worldwide Association, Inc., is headquartered in the United States near Dallas, Texas. Its members, who attend congregations around the world in more than 50 countries, provide the financial support for LifeHopeandTruth.com. Comments and inquiries are welcomed and can be directed to http://lifehopeandtruth.com/contact.
# # #
If you would like more information about LifeHopeandTruth.com, or the Church of God, a Worldwide Association, Inc., please call our office at 972-521-7777, email Clyde Kilough at clyde.kilough@cogwa.org, or write to the Church at 1301 Central Expressway South, Allen, TX 75013-8088, United States.